GEOTARGET
A Customized Service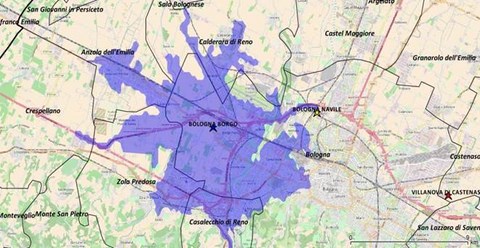 GeoTarget is the service that allows you to define in any way the gravity area of a point of sale and to obtain all the information available on potential consumers who live or frequent the defined area: diurnal and resident population, income, commuting, work activities and concentration of commercial activities.
The area is defined starting from the address (or geographic coordinates) of the point of sale and can have any shape and size:

- circle with a certain radius;
- isochronous on foot or by car;
-CAP or Municipality;
-polygonal however defined.
The GeoTarget report provides all the information available at a micro-territorial level on population and its socio-economic structure, Geofocus classification, income, jobs, commuting for work, commercial attractiveness and is sent within 3 working days from the order.
FAQ

Can reports be obtained on any portion of territory?

GEOTARGET covers the entire Italian territory, from large cities to small towns in the province taking into account the updated road network.
Can I compare multiple territorial areas with each other?

The standard report by GEOTARGET compares the chosen area with the Province and the Region, in the case of a multi-municipal area, and with the municipality and the province, in the case of a sub-municipal area. On request, up to 9 zones can be compared with each other, also defined by the customer.
Can I have more information, in addition to those contained in the report?

The report contains only a portion of the hundreds of information available, the most frequently used. Any special requests must be verified on a case-by-case basis.
Can I have a report that precisely quantifies the customer-type for my store?

If you have the description of the customer-type (example: women 25-45 years with high income) it is generally possible, subject to verification, to obtain personalized information, without any particular increase in costs.
What is the source of the available data?

The majority of data comes from public data collected by ISTAT but in some cases, as for income, direct data or Commongrounds estimates have been used on open data from other sources (Bank of Italy, Ministry of Finance, Istituto Guglielmo Tagliacarne, Ministry of Education) or to data from the Telephone Archive.
My problem is to identify the best areas where to open a store, how can I solve it?

To find the best locations it is necessary to carry out a mini-research which, starting from the definition of the client-type, identifies, in order of potential, the cities or the most potential areas. This is an ad hoc study to be agreed.